Abstract
This study arose from informal discussions on a vet nursing facebook group in which some vet nurses recommended 'go slow feeder' device (GSF) use to slow feeding and make feeding fun.
This is the winning poster which was presented at the Veterinary Evidence Today conference, Edinburgh November 1-3, 2016.
More about Louise.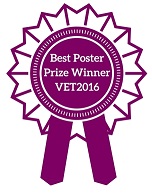 License
Veterinary Evidence uses the Creative Commons copyright Creative Commons Attribution 4.0 International License. That means users are free to copy and redistribute the material in any medium or format. Remix, transform, and build upon the material for any purpose, even commercially - with the appropriate citation. 
Most read articles by the same author(s)
Louise Buckley, Is There Any Evidence to Support the Use of Garlic as a Wormer for Dogs and Cats in the UK? , Veterinary Evidence: Vol. 4 No. 2 (2019): The second issue of 2019
Ellie Sellers, Sarah Baillie, Rachel Dean , Sheena Warman, Heidi Janicke, Sebastian P Arlt, Clare Boulton, Marnie Brennan, David Brodbelt, Fiona Brown, Louise Buckley, Myai Du, Emma Gallop, George Goran, Douglas JC Grindlay, Laura Haddock, Joanne Ireland, Catherine McGowan, Heather K Moberly, Emma Place, Md Mizanur Rahman, Gwen Rees, Kristen Reyher, Javier Sanchez, Johan P Schoeman, Laura Urdes, John VanLeeuwen, Kristien Verheyen, Promoting Evidence-based Veterinary Medicine through the online resource 'EBVM Learning': User feedback , Veterinary Evidence: Vol. 6 No. 1 (2021): The first issue of 2021