The missing link between practice and research
Professor Peter Cockcroft1*
Editor-in-chief

1University of Surrey, School of Veterinary Medicine, Daphne Jackson Rd, Guildford GU2 7AL
*Corresponding author (p.cockcroft@surrey.ac.uk)
---
Vol 5, Issue 2 (2020)
Published: 29 Apr 2020
DOI: 10.18849/VE.V5I2.343
---
The application of evidence-based veterinary medicine (EBVM) can improve and optimise: diagnosis, prognosis, control, treatment of animals, provide informed choices for owners, enable veterinarians to defend their decisions scientifically, provide the user with a methodology for appropriate, patient orientated life-long, self-directed learning, identify information deficits in the literature and direct clinical research (Cockcroft and Holmes 2003).
Veterinary research is often dictated by top down approaches where funding bodies have specific topics which they are prepared to fund. Veterinary practitioners often feel they have little or no influence on the 'research agenda' and are simply the end users (Holmes and Cockcroft, 2008). The practice of evidence-based veterinary medicine, and in particular the creation and publication of Knowledge Summaries, can provide a bottom up approach to identifying important and useful information needs that influence the quality of care and advice we can provide in clinical practice.
Identification of important clinical questions from practice settings, and the identification of the strength of evidence to answer the question from the published primary literature, is an overlooked important outcome with regard to directing future research.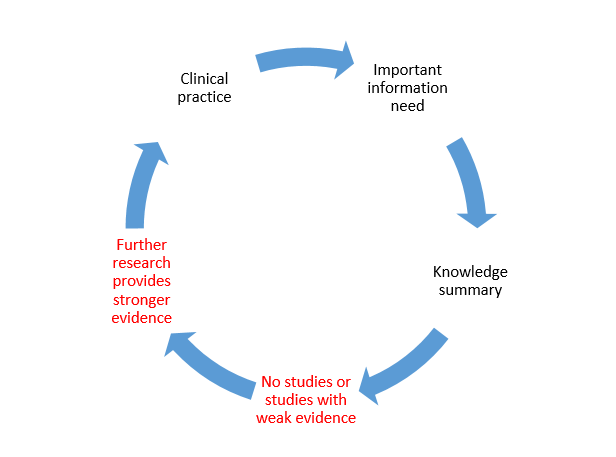 The Veterinary Evidence Journal will now provide an annual list of Knowledge Summaries where the strength of evidence to answer the question in the primary literature is weak or non-existent. This will provide the veterinary research community with topics that have been identified as requiring further high-quality research to increase the strength of evidence.
This page is available here: veterinaryevidence.org/index.php/ve/Strength-of-evidence
References
Cockcroft P D and Holmes MA (2003) Handbook of Evidence‐based Veterinary Medicine, p9, Blackwell Publishing Ltd
Holmes MA and Cockcroft PD (2008) Handbook of Veterinary Clinical Research, p, Blackwell Publishing Ltd
---